Evolving Corporate Structures and the Legal Implications of Hybrid Business Models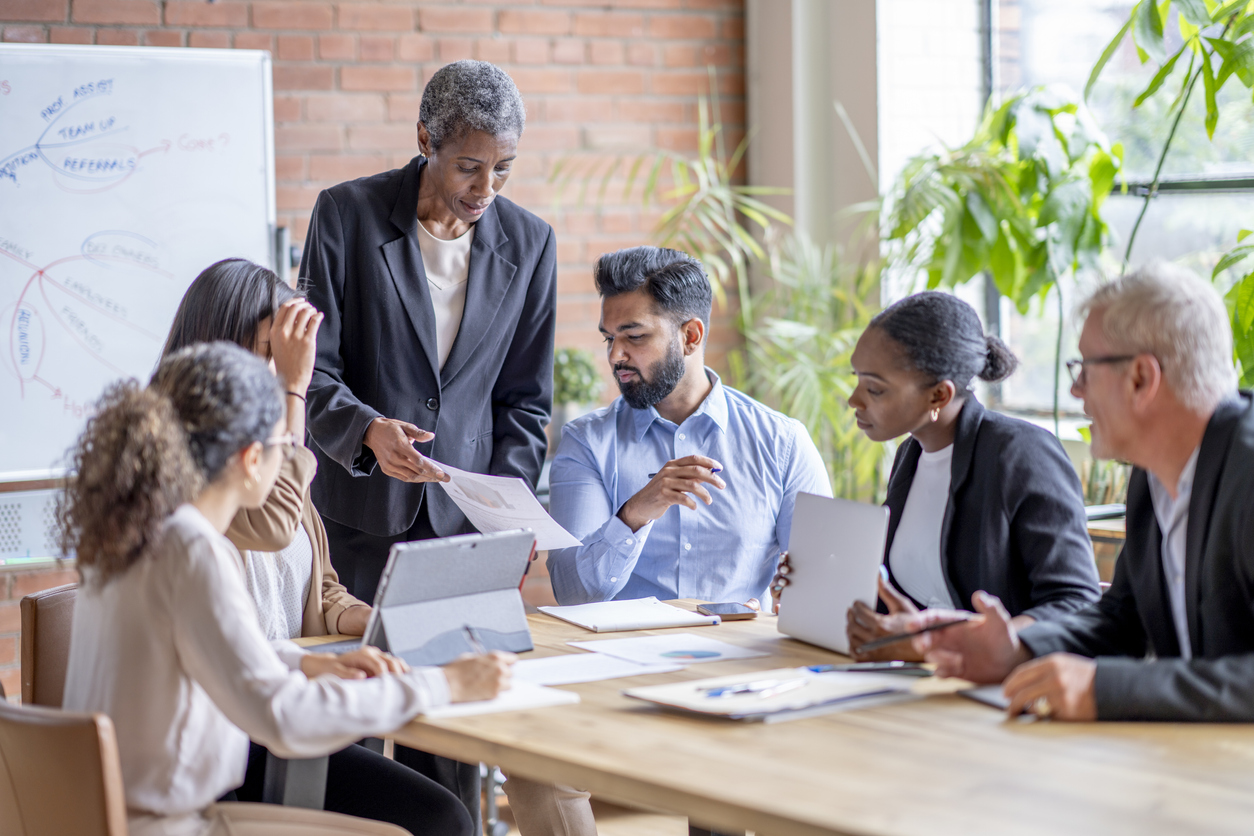 A small group of mature corporate business men and women, gather around a boardroom table as they meet to discuss the company. They are each dressed professionally and have papers and tablets out out in front of them as they take notes and reference the material.
The landscape of corporate structures is undergoing a profound transformation, driven by the convergence of traditional business models with innovative practices. In this era of rapid change, hybrid business models are emerging as a powerful force, challenging conventional notions of how companies operate and raising intriguing legal questions.
Begin to delve into the evolution of corporate structures and explore the complex legal implications associated with hybrid business models that can be navigated with professional help from a corporate lawyer.
The Rise of Hybrid Business Models
Hybrid business models combine elements of different business structures, allowing companies to harness the benefits of multiple approaches while mitigating their respective drawbacks. This evolution has been facilitated by technological advancements, shifts in consumer behaviour, and the growing emphasis on sustainability and social responsibility.
Consider the example of "B Corporations" (B Corps). These are businesses that meet rigorous standards of social and environmental performance, accountability, and transparency. They combine the profit motives of traditional corporations with a commitment to positive societal impact, blurring the lines between for-profit and non-profit entities. Similarly, the sharing economy has given rise to platforms like Airbnb and Uber, which straddle the line between traditional businesses and peer-to-peer networks. These platforms connect individuals in a decentralized manner, challenging established regulatory frameworks.
Legal Challenges of Hybrid Models
The emergence of hybrid business models presents legal challenges that require careful consideration and innovative solutions. Aspects such as taxation, liability, intellectual property, and governance are all impacted by these new paradigms.
Taxation
Determining the appropriate tax classification for hybrid business models can be complex. For instance, a company that operates with a strong social mission may find it challenging to align its tax liabilities with its broader goals. Governments and tax authorities need to adapt their regulations to accommodate these new forms of economic activity, striking a balance between revenue collection and encouraging positive societal contributions.
Liability and Risk Management
Hybrid models often blur the lines of accountability and liability. In traditional corporate structures, legal liability is generally confined to the corporation itself. However, in hybrid models, individuals may have more direct involvement, potentially exposing themselves to greater personal risk. Crafting legal frameworks that offer protection while holding individuals accountable is a delicate task.
Intellectual Property
Hybrid business models can also raise questions about the ownership and protection of intellectual property. In collaborative ecosystems, where multiple stakeholders contribute to the creation of a product or service, defining ownership rights becomes intricate. Clear agreements and legal mechanisms are necessary to prevent disputes and ensure that all contributors are appropriately recognized and rewarded.
Governance and Regulation
Traditional corporate governance structures may not fully address the complexities of hybrid models. For instance, B Corps need to balance profit goals with social and environmental missions, necessitating innovative governance frameworks. Regulatory bodies must keep pace with these changes to ensure that ethical standards are upheld while fostering innovation.
Navigating the Legal Landscape
As hybrid business models continue to proliferate, legal professionals play a crucial role in navigating this evolving landscape. Here are several ways in which legal experts contribute to addressing the legal implications of hybrid models:
Tailored Legal Structures
Legal experts collaborate with entrepreneurs and business leaders to design legal structures that align with the unique characteristics of hybrid models. These structures need to accommodate the diverse goals of the business while complying with relevant laws and regulations.
Agreement Drafting
Crafting comprehensive agreements is paramount in hybrid models. A skilled corporate lawyer can help outline the responsibilities, rights, and liabilities of various stakeholders, ensuring that all parties are on the same page. This includes addressing potential conflicts and establishing dispute-resolution mechanisms.
Regulatory Compliance
Navigating the complex regulatory environment is a critical task for businesses with hybrid models. Legal advisors help companies understand and adhere to relevant laws, anticipate potential challenges, and explore opportunities within the regulatory framework.
Risk Mitigation
Legal experts aid in identifying potential legal risks associated with hybrid models and developing strategies to mitigate them. This proactive approach safeguards businesses from unforeseen legal complications and reputational damage.
Advocacy and Lobbying
In cases where the regulatory framework does not adequately address the nuances of hybrid models, legal professionals can engage in advocacy and lobbying efforts to drive regulatory changes. By working with policymakers, they contribute to the creation of more adaptable and relevant legal structures.
Embracing the Future
The emergence of hybrid business models is reshaping the corporate world and challenging legal conventions. Embracing this evolution requires a collaborative effort from businesses, legal professionals, regulators, and policymakers. As the business landscape continues to evolve, the legal community must remain agile and forward-thinking, adapting legal frameworks to accommodate innovative approaches to commerce. By doing so, we can harness the potential of hybrid models to drive positive change while ensuring legal clarity and compliance.