Why Don't More Cars Have Gullwing Doors?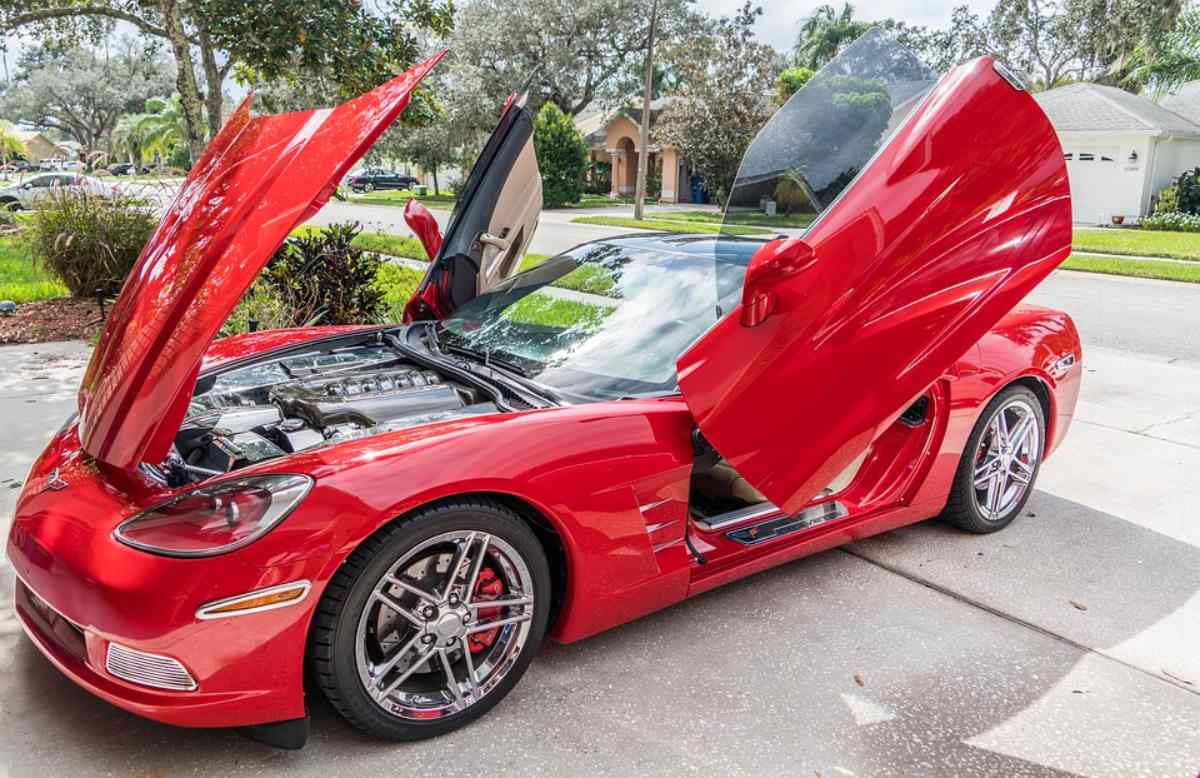 Gullwing doors (or falconwing doors, if you must) like the ones on the new Tesla Model X are undeniably cool. But they're more than just some flashy design choice. Gullwing doors take way less clearance to open compared to traditional doors, making them great for tight urban spaces. They'll let you load a kid into the car without hunching over. You can even drive with them open; did I mention they are COOL?
But if they've got these handy features, why don't we see them on more cars?
They're tough to design well
It may not seem like a huge engineering challenge to make a door open up instead of out once you have the idea, but there are a few persistent design challenges that plague gullwing doors in particular.
The first is that the weight of the door, which is generally pretty heavy, has to actively fight gravity on its way open instead of just pivoting on a traditional hinge. Fortunately you don't have to just force passengers to just lift the whole weight of the door themselves. One solution (which the DeLorean uses) is to use a torsion bar to help, a rod that's twisted to create tension when the door is closed, and that untwists and helps to lift the door once it's opened. And like the Tesla X, you can also just power the doors.
But that's not all. Green Car Reports—which dug up a handful of of-the-record sources to talk about the Tesla X in particular—surfaced a number of other challenges earlier this year. You have to make sure the roof isn't going to warp at all. You have to find room for the torsion bars and power assist in the small part of the roof that is not part of the door. Have to make sure they are properly sealed. Gullwing doors have a tendency to be a bit leaky in the rain. Elon Musk himself mentioned it in an earnings call, as Green Car Reports points out, assuring that the company "has learned a lot about door seals."
These aren't insurmountable engineering challenges, but they are challenges you can get around by just using traditional doors instead.
They can be annoying to use
This GIF—from an episode of Vehicle Virgins about the Mercedes SLS AMG—pretty much speaks for itself.
Of course, like other gullwing door design problems, it's not impossible to solve. If the doors are powered (like the Tesla X) it's no real issue, but that's both an extra expense and an extra point of failure. If they're not, shorties and kids are just out of luck.
 It's hard to make them safe
Safety is probably the biggest barrier to the spread of gullwing doors. Federal safety standards mandate that doors be designed in a way that it's feasible to open them after a rollover crash, and getting gullwing doors to comply can be a little rough.
Solutions range from the crude to the expensive. DeLorean windows, for instance, are designed to be kicked out in case of emergency. Meanwhile the doors on the Mercedes SLS AMG are designed with explosive bolts that will fire the door off its hinges if the car is upside down. But no solution is quite as elegant as "don't have gullwing doors." Or at least falling somewhere in the middle like the Tesla X, which has traditional doors up front and gullwings in the back.
Also Read: How to Design Latest Bumper Stickers?
collisions
On top of that, there's the challenge of protecting against side collisions; making the doors strong enough to stand up to a direct T-boning as well as a normal door is possible, but gullwing doors also need to be light to be easier to lift. It's a direct conflict that's easily avoided by a solution that, at this point, I think you can probably guess.
And ultimately, that's why gullwing doors and their like aren't more widespread: It's just so much easier not to have them. While they do offer a few benefits—and a whole boatload of cool—they cause more trouble (and cost more money) than they're ultimately worth. Most of us don't even know what we're missing anyway. And in the end they don't make it to very many cars, and the ones they wind up on tend towards the expensive.
So the next time you see some guy in a parking lot, conspicuously tying his shoe underneath an open gullwing door for minutes on end, let him savor his moment. He paid for it.
Also Read: Suicide Doors – Origin, Model and Benefits
Related Searches:
[butterfly doors]
[gullwing door kit]
[gullwing doors mercedes]
[cheap cars with gullwing doors]
[cars with gullwing doors 2020]
[audi with gullwing doors]
[porsche with gullwing doors]
[van gullwing door kit]]
[butterfly door kit]
[porsche gullwing doors]
[wing door hinges]
[gull wing door mechanism]
[gullwing door kit mustang]
[how to make gull wing doors]